It can be difficult to watch as our parents grow older and things that were once easy become more difficult. We want to do everything we can to help and make their lives easier, but we don't want to overstep or burn ourselves out doing everything for them. Many older adults want to keep their independence, so how can you best care for a parent struggling to walk?
You can care for aging parents by making changes that make their lives easier, like helping them get an assistive device or making their home safer with rails or ramps. If you find yourself overwhelmed with care duties, assisted living at Round Lake could be an excellent option.
Assisted living communities focus on helping your loved one keep their independence while still having access to a team on-site that can help them with any day-to-day things they may struggle with.
It's also important to make sure that you actively take care of yourself while caring for your parent. Caregiver burnout is a real thing that affects many Americans every day, and it's avoidable as long as you take care of yourself just as you're taking care of your parent.
Assistive Devices for Seniors
Some people hear the word "assistive device" or "mobility device" and immediately imagine a motor scooter of sorts, but there are other options as well. Assistive devices are simply different things designed to make a person's day-to-day life easier. And if your parent is struggling to walk, there are many options available to make getting around easier for them.
There are simpler options, like a cane or a walker, that help distribute a person's weight to make it easier on their backs and legs. If they're struggling with walking at all or experience severe pain whenever they do, it's best to see a doctor and learn more about wheelchair options.
Grabbing devices can help seniors avoid bending over, and bed risers can help them with comfortably getting in and out of bed. If there's a certain thing your parent does every day that you know is difficult for them, explore your options for helpful tools. You may find something that can drastically improve their comfort day-to-day.
How to Create a Safer Home Environment
As mobility becomes more difficult for a person, things that were once safe may become hazards. Stairs, slippery mats, and even just the way furniture is laid out can become more difficult to navigate.
You can assess the environment your parent lives in and see what you can do to make it safer. If they need a wheelchair or a walker to get around, it might be time to change the front steps into a ramp. Adding rails to walkways can also be helpful.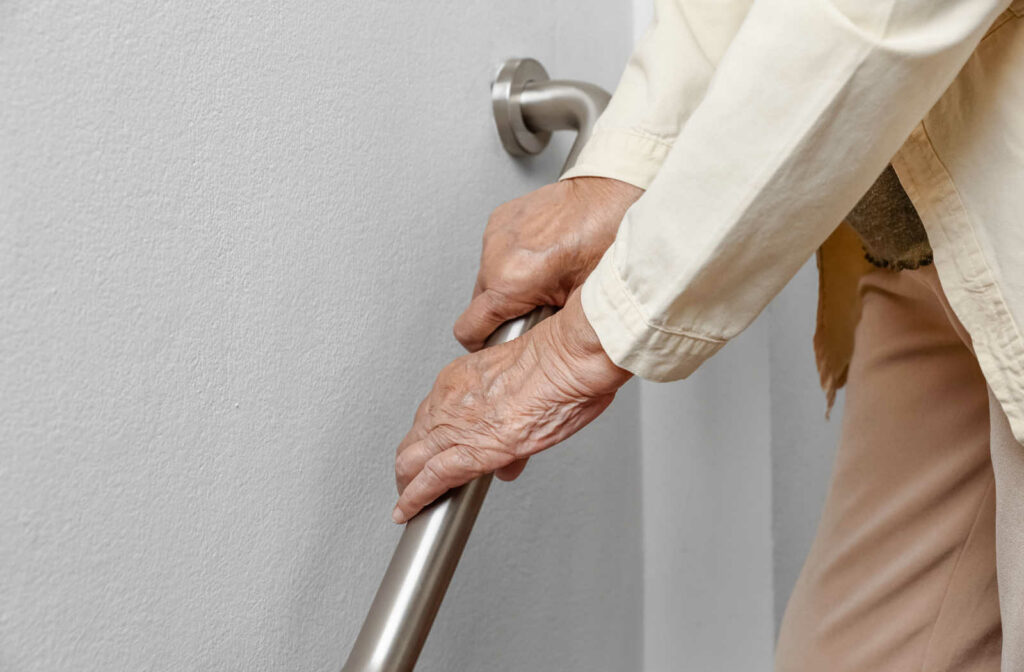 There are non-slip pads you can install under rugs or bath mats and in the shower to reduce the risk of slipping and falling. You could also look into installing a railing or a chair in the shower to make it easier for them there, too!
Make sure that all walkways are clear and free of debris, and ask them what else they need to feel safe in their home. Depending on how many changes are needed or how feasible it is for you to make adjustments to your loved one's home, exploring your options for assisted living communities could be the next step in supporting your loved one's health and comfort.
Discover the Benefits of Assisted Living
Assisted living communities are communities set up in a way that residents remain as independent as possible while still making sure they're surrounded by a team of caring individuals who can help with the necessary day-to-day things that may be difficult to manage.
These communities offer residents house or condo-style apartments to live in and make their own, so it feels just like home. The team in our community makes sure that residents have everything they need to be safe and happy, aiming to provide a higher quality of life. With all sorts of amenities and services available, it's an excellent way to make sure that your parent has access to the care they deserve—plus, there are tons of events available to keep things interesting!
How Round Lake Senior Living Can Support You
It's okay to feel like you can't do it all yourself. Caregiver burnout is a real thing, and many people across the United States deal with it every day. The stress of taking care of another person can be too much for one person to handle.
Schedule a tour with us here at Round Lake Senior Living to see for yourself what we can do for you and your loved ones, or contact us for more information. We're here for you and can help you and your aging parents find the quality of life you deserve.