One of the most appealing aspects of living in a 55+ community is being surrounded by people your own age to socialize with and make friends. However, for anyone who has a child or grandchild who may need to live with them, it can be a concern until they learn more about how the communities operate, which may change where you decide to live.
In general, not just anyone can live in a 55+ community. The exemption from the Fair Housing Act for housing for older adults allows 55+ communities to set age restrictions for their residents. A minimum of 80% of the units in a 55+ community must have at least one occupant who is 55 or older to qualify for this exemption.
Fair Housing Act
To qualify for the "55 or older" housing exemption, a facility or community must meet all of the following criteria:
At least 80 percent of the units must have at least one occupant who is 55 years of age or older
The facility or community must publish and adhere to policies and procedures that demonstrate the intent to operate as "55 or older" housing
The facility or community must comply with Housing and Urban Development's (HUD) regulatory requirements for resident age verification
The exemption for "housing for older persons" does not shield such facilities or communities from liability for housing discrimination based on race, color, religion, sex, disability, or national origin
Once the retirement community has met these criteria, it is free to set its own age restrictions following state laws. These restrictions can be stricter or laxer than the Housing for Older Persons Act (HOPA) requirements.
Can My Young Adult Child Live with Me?
The entire purpose of these 55+ communities is to provide seniors with a place to live that meets their lifestyle, safety, and convenience needs. To create such an environment, age restrictions were implemented.
When it comes to children, however, exceptions can be made. When a legal guardian needs to keep their child with them, you may be able to find an exception.
These communities are designed to help seniors maintain a healthy lifestyle. If a senior has a child who needs to live with them, they may be able to do so.
If the senior living community has followed the rules and guidelines that allow for these exceptions, your child, who is over the age of 18, should be able to live with you, but it depends on the rules the senior living community has in place.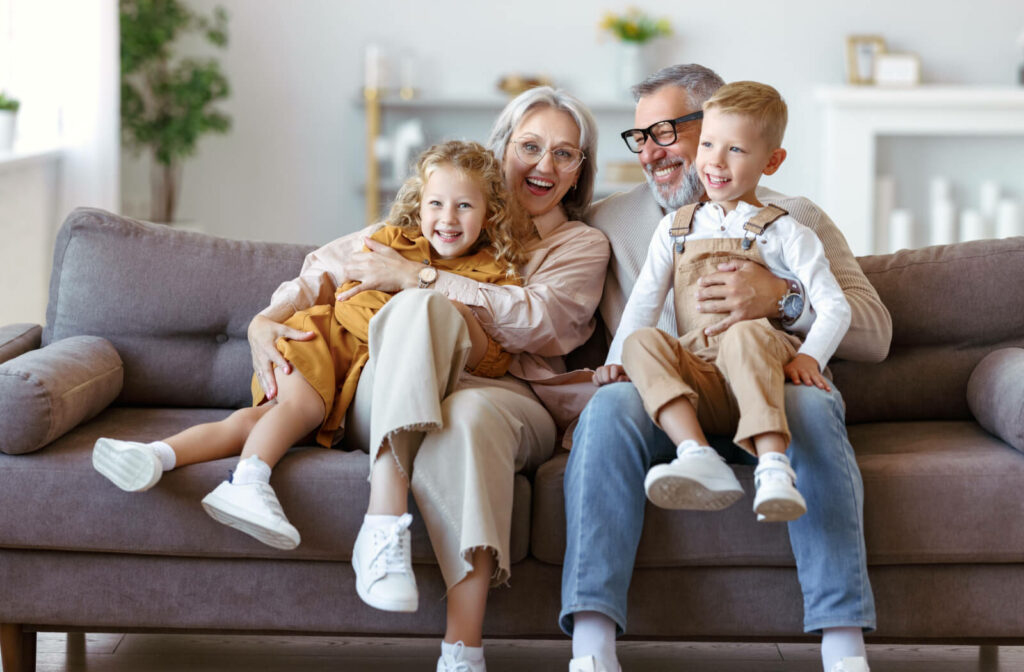 Can Children under 18 Still Visit Me?
If you're wondering if your younger grandchildren or children can still visit you—of course! While these communities have tenant restrictions, there are few, if any, rules that govern your visitors. Children and grandchildren are welcome to come and go as they please, as long as their visits are brief.
Some senior living communities even provide amenities that are appealing to grandparents, such as playgrounds, and even swimming pools for children (most will require any children using the pool to be out of diapers, however). Age restrictions apply only to residents.
Child and grandchild visitation rules typically allow for stays of 2 weeks to 1 month but may allow for longer stays. For further clarity on restrictions, consult with a representative from your community.
Types of Senior Living Lifestyles
If you're considering moving into a 55+ Senior Living Community, there are a few different lifestyles to choose from based on your needs:
Independent Living
Residents of independent living communities can live an active and independent lifestyle while also taking advantage of social opportunities to connect with others their age who share common interests.
Seniors can enjoy their retirement without the responsibilities of home ownership by eliminating chores such as meal planning/preparation, laundry, and housekeeping, as well as having access to a calendar of organized activities.
Assisted Living
If you want to maintain as much independence as possible while receiving assistance with daily activities such as laundry and housekeeping, assisted living can be a great option.
Private apartments in assisted living communities can provide you with the privacy you would want while also offering 24-hour medical care.
Nutritional assistance may be beneficial if you are having difficulty eating properly. In an assisted living facility, you'll not only eat well, but you'll also have more time to socialize and make new friends.
Is a 55+ Community Right for You?
Whether you're considering it for yourself or a loved one, this isn't a simple decision. The community you choose must meet your needs and provide the amenities that you or a loved one needs.
The rules and regulations can differ from one community to the next, so you'll need to do some research to find the best fit. Remember that you can always contact us for assistance with any questions you may have.