As our loved ones age, it can be difficult watching them begin having difficulty with things that were once easy. And sometimes, it may be time to consider moving them to a senior living community. But how can you tell if a loved one should move to assisted living or memory care? What's the difference?
Assisted living aims to provide seniors with a home-style environment where they can get assistance with their daily tasks but remain independent where possible. Memory care offers specialized care to seniors with memory impairment so they can have a safe, supportive, and structured environment that aims to minimize how much their condition affects their daily lives.
It's important to assess your loved one's needs so you can choose a senior living community for them.
What Is Assisted Living?
Assisted living is a type of senior living that's designed for seniors who want to remain independent but need some help with their daily tasks. These communities offer support for daily things like:
Bathing
Dressing
Medication management
Cleaning
Preparing meals
These communities aim to provide a home-like environment while removing any barriers seniors might face that impact their lives negatively. The teams working in these communities create a customized care plan, so your loved one can get the care they need—while remaining independent where they can.
When Is Assisted Living the Right Choice?
When thinking about senior living, assisted living is a popular choice. There are some questions you can ask that can narrow down whether or not it's the right choice for a loved one:
How independent can they be?
Are they at risk of harming themselves if they live alone?
Do they need help with some things but want to remain independent?
Does the idea of a maintenance-free lifestyle appeal to them?
If so, assisted living may be the right choice for your loved one.
The Benefits of Assisted Living
Assisted living communities can be an excellent way for your loved one to get the care they need while retaining their independence. These communities offer:
Supervision and support with daily activities
Opportunities for social interaction
Access to medical care and therapy
A safe and secure environment
Nutritious meals and help with dietary needs
What Is Memory Care?
On the other hand, memory care is a more specialized form of senior living. While assisted living is designed to provide care and promote independence, memory care aims to provide care and a safe, supportive environment to seniors battling Alzheimer's disease, dementia, and other forms of memory impairment.
Memory care facilities have staff trained to understand the unique needs of those with memory impairments. These teams of caregivers have experience in helping support seniors living with dementia and are trained to help with the complications memory impairment often causes.
Seniors experiencing memory impairment often experience significant challenges every day, like:
Wandering or getting lost
Memory loss and confusion
Difficulty with communication and understanding
Problems with coordination and motor functions
Mood changes and behavioral issues
Difficulty with self-care and daily activities
Memory care offers a safe and supportive environment where your loved one can receive help to lessen the impact these problems have on them.
How Does Memory Care Help Seniors with Dementia?
In memory care, there's a strong focus on improving a senior's quality of life and providing care to those experiencing memory impairment. There's a wide range of services offered, like:
Specialized therapies designed to emotionally and cognitively support seniors with dementia
Activities that promote cognitive function and memory recall
A safe environment designed so residents can't get lost or harm themselves
Support groups for residents
Transportation services
Social opportunities where residents can spend time with the people around them
These communities often have a strong structure in place so residents can have a sense of routine and familiarity. The community also works closely with the families of residents so every person involved has up-to-date information on the resident's status.
Assisted Living vs. Memory Care: What's the Difference?
While assisted living and memory care are forms of senior living, they aim to provide different services to their residents. Typically, assisted living aims to promote independence for every resident and offers services like:
Cleaning
Cooking
Medication management
Dressing
Bathing
However, assisted living isn't always ideal for seniors with memory impairment. The teams working in assisted living are trained to work closely with seniors who can still perform most of their daily tasks themselves.
Meanwhile, memory care exists solely to help support seniors struggling with memory impairment like Alzheimer's and dementia. These communities offer:
Support for seniors with memory impairment
A structured environment to promote a sense of familiarity and predictability
Specialized support to support cognitive function
Therapy to emotionally help seniors with memory loss
This means that while they both are forms of senior living, assisted living and memory care have key differences that may make one or the other more ideal for a loved one in your life.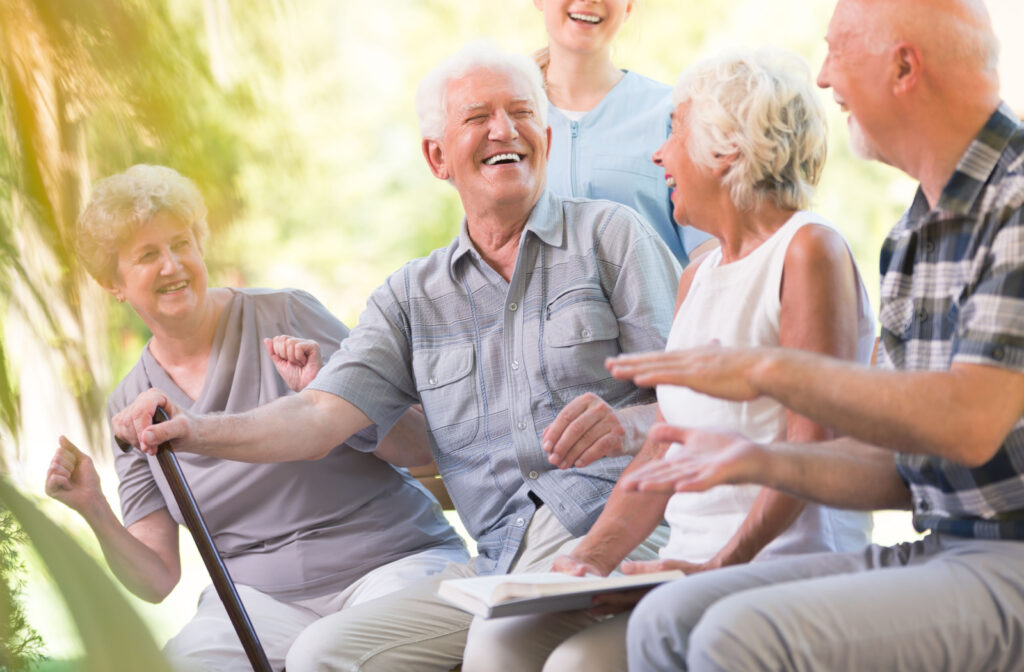 Choosing the Right Senior Living Community
The choice between assisted living and memory care depends on the specific needs of the senior. Before making a decision, it's important to assess your loved one's needs to determine whether assisted living or memory care is the right choice.
If you can't determine whether or not your loved one should move to assisted living or memory care, schedule a tour with us at Round Lake Senior Living. Our team of caregivers is here to give you advice, and we offer both assisted living and memory care. Let us help you find your loved one their next home!